CASE STUDY: ONIX ACCRA 1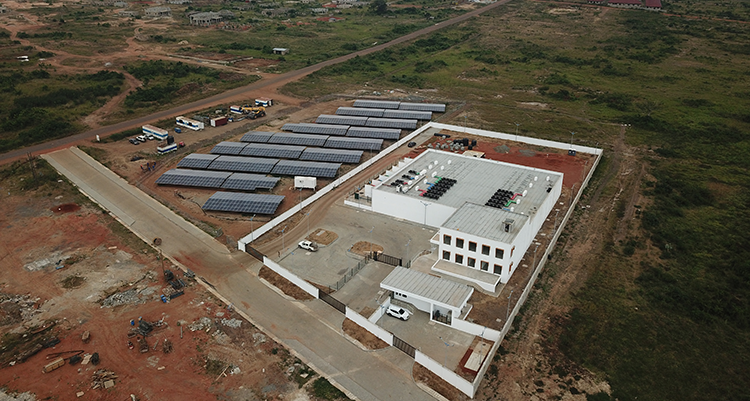 THE COMPANY:
Company: Onix Accra 1
Region: West Africa
Country: Ghana
Sector: Digital Infrastructure
Technology: Carrier-neutral data centre
Investor: AIIF3
Investment: Equity
ONIX ACCRA 1'S STORY
Ngoya Etix DC (Ghana) Limited was founded as a joint venture between Etix Everywhere, Ngoya and Africa Investment Group (AIG). They began the construction of the data centre in December 2017 and commercial operations commenced in August 2019.
Upon acquisition by AIIM, Ngoya Etix was renamed 'Onix Accra 1', following the establishment of the new ONIX Data Centres Limited (ONIX DC) platform, an international data centre business headquartered in London, which designs, builds, manages, and operates world-class carrier-neutral colocation data centres.
Located in the Greater Accra region of Ghana, Onix Accra 1 is the only Uptime Institute-certified Tier IV data centre in the country. A carrier-neutral data centre with a current capacity of 170 racks (expandable to 680 racks), the facility aims to establish a pan-African digital platform that will deliver high-speed and secure data services to the enterprise, consumer and public sector markets.
Ghana is a vibrant West African economy with a well-entrenched ICT ecosystem of submarine cables, mobile network operators and Internet Service Providers (ISPs), and is strategically situated to provide a stepping stone into the region. ONIX DC has plans to install an Internet Exchange Point (IXP) in the facility, ensuring a comprehensive and robust connectivity ecosystem for its target customer base which includes ISPs, telecommunications companies, governments, Content Distribution Networks (CDNs), cloud providers, hyperscalers and large enterprises.
IMPACT HIGHLIGHTS
Onix Accra 1 is the only Tier IV data centre in Ghana and is expected to be the largest operational data centre in the country once fully ramped-up.
Onix Accra 1 is partly powered by solar energy which helps reduce its carbon footprint in the immediate locality.
THE COMPANY VIEW
Mr Michael Nahon, CEO of ONIX DC, comments:
"I am delighted that we have been able to acquire this data centre, with the support of AIIM, who are longstanding supporters of, and investors in Ghana. We have well-developed plans to deliver a high-quality facility and see this as an optimum time to be investing in the Ghana market.
THE ROLE PLAYED BY PRIVATE EQUITY
Onix Accra 1 represented an opportunity for AIIF3 to anchor its digital infrastructure strategy with a high-quality, operational asset with significant upside potential. Bolt-on acquisitions and greenfield builds will be added to the ONIX DC Limited portfolio to create a platform of scale, which will enhance the exit attractiveness and provide risk mitigation.
AIIM established a data centre platform via a UK HoldCo to aggregate its equity interests in pan-African data centres. AIIF3 is the majority shareholder of the platform, with the remaining shareholding held by our co-investors and operating partners, ONIX DC. ONIX DC comprises of a small team of professionals with experience in the telecommunications sector who have partnered with AIIM to build a pan-African buy-and-build digital infrastructure strategy.
AIIM invested in Onix Accra 1 at a critical juncture, with Africa witnessing exponential data growth which exceeds rates seen in other regions, and which has been further propelled by the Covid-19 pandemic. Onix Accra 1 is positioned to satisfy the increasing levels of demand from local and global customers seeking quality and reliable solutions, as well as the international data centre boom.
A FORCE FOR GOOD
The world is moving towards an Information Society, driving data consumption behavior through the use of data-heavy applications, such as social media, media streaming, the Internet of Things, and cloud technology. New business models and companies are being developed across the continent around the digital economy ecosystem and existing businesses are moving online. With these changes in mind, digital infrastructure, and data centres, in particular, are fundamental to economic growth and social development. Without high-speed networks and highly secure, available, and reliable data centres and fibre networks, there can be no digitalisation of Africa's economies.
Minimising environmental impact is also key for Onix Accra 1, which is why it has a dedicated 726kWp solar plant, which helps reduce its carbon footprint. The capacity of the plant will be increased as the power requirement of the data centre increases, and there are also plans to include additional storage in the future.
Moreover, AIIM is working to establish several sub-committees including an ESG committee, in order to ensure that best practice standards and good governance is applied. Localisation of in-country functions will be necessary as the platform grows in order to ensure the sustainability of the facility, which will create jobs for local professionals.